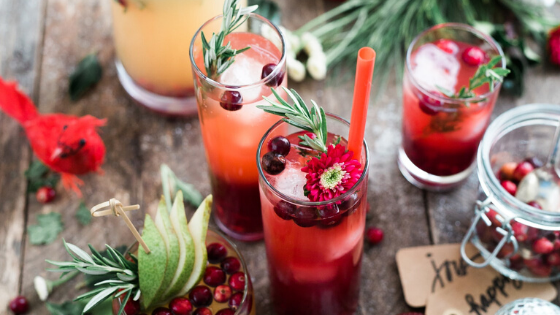 With all the effort that goes into planning a delicious meal, it is easy to forget about the drinks you serve your guest. Instead of relying on canned drinks from the grocery store, why not take a few minutes to create a refreshing holiday punch for your guests? We came up with a few ideas for residents of our Candlewood North apartments in Northridge, CA.
Lemon-Lime Punch With Rosemary
It is easy to pull this delicious Southern concoction together when you are short on time.
Ingredients
6 cups of preferred lemon-lime soft drink
6 cups of limeade
1 pt. of lime sorbet
1 pt. of lemon sorbet
Fresh rosemary sprigs, two to three
Lemon and lime slices for garnish
Stir the limeade and soft drink together into a large punch bowl. Scoop out both sorbet flavors and place them in the punch. Add your fresh rosemary sprig and start serving immediately.
Apple-Spice Iced Tea
Looking for a nice twist on serving traditional iced tea? Give it some holiday flair using this recipe.
Ingredients
One 12-oz can of apple juice concentrate
2 qt. of hot unsweetened tea
1 split vanilla bean
1 sliced piece of 3-inch fresh ginger
Three 3-inch cinnamon sticks
1 sliced lemon
Stir the apple juice, hot unsweetened tea, vanilla bean, cinnamon sticks, ginger, and lemon together in a container. Place the container in the refrigerator to chill for 24 hours, giving the punch an occasional stir. Remove the cinnamon, ginger and vanilla bean before serving it to your guests over ice.
Chocolate and Raspberry Milk Punch
The following recipe is a great option if you are looking for something chocolatey to serve your guests at your next holiday gathering.
Ingredients
2 cups of heavy cream
¾ cups of chocolate syrup
1 qt. of 2% low-fat milk
2 strips of orange rind
½ cup of seedless raspberry jam
Place the cream, milk and orange rinds into a large saucepan and simmer over medium heat, stirring it often. Remove the mixture from the heat and whisk in the raspberry jam and chocolate syrup. Throw the orange rind away and serve to your guests in festive holiday cups.
Let us know how these recipes worked out for you by contacting Candlewood North apartments in Northwood, CA at (866) 796-2183.