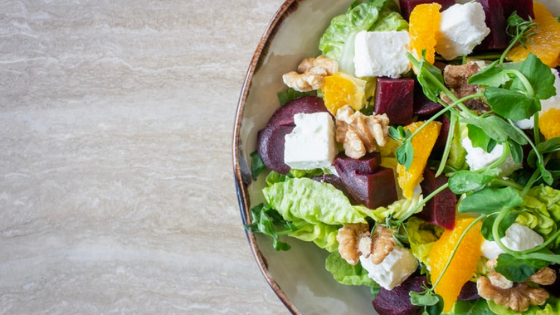 When fall settles into our Northridge, California, apartments, we get excited about the produce that's at its freshest when the temperatures start to cool down. This is the perfect time to enjoy the season's best salads, using ripe ingredients that flourish when autumn rolls around. If you need some inspiration, here are a few fall-inspired salads to try:
1. Apple and Walnut Salad
Apples are everywhere this time of year, so it only makes sense that they should be on your salad plate, too. With this Apple and Walnut Salad, you can enjoy the crisp, fresh taste of the lettuce and apples, alongside the crunch of toasted walnuts. The crumbled gorgonzola cheese brings all the flavors together in perfect harmony.
2. Beet Salad With Arugula and Balsamic Vinaigrette
Beets are often an overlooked vegetable, but they're so good for the body. They bring a combination of fiber, folate and vitamin C, which can be essential when cold season shows up. To get these good ingredients into your body, add some fresh beets to baby arugula, feta cheese, and toasted pecans. Top it off with some dried cranberries to complete a sensational salad.
3. Blackberry Spinach Salad
Blackberries contain a wide variety of vitamins, including A, C, E, and B. They're also rich in potassium, magnesium and powerful antioxidants. When placed atop a bed of spinach, these delicious little berries will burst with flavor, particularly when they're accompanied by cherry tomatoes, green onion slices, and chopped walnuts.
4. Broccoli Salad
Broccoli loves autumn, which is why this is the perfect time of year to concoct a side dish or lunch salad that puts this veggie in its best light. It pairs well with sunflower seeds, bacon bits, and dried cranberries, among a few other fall-favorite ingredients.
5. Fig Salad With Goat Cheese and Baby Arugula
If figs aren't normally on your dinner plate, maybe this fall season will inspire you to branch out and try something new. When served with goat cheese and toasted walnuts, these little beauties take on a life of their own.

Are you searching for an apartment that'll welcome you home every time the day is done? Candlewood North is proud to provide peaceful respite to our residents. We invite you to check out our available floor plans today!