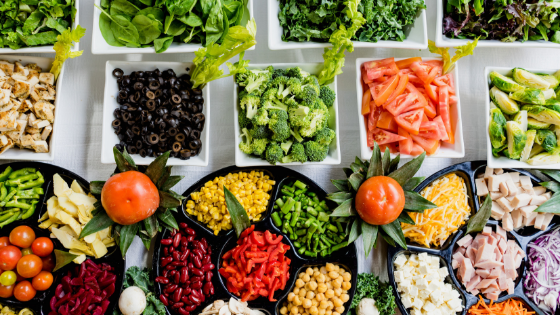 With healthy living in vogue, meal prep is all the rage. Busy professionals block out a few hours to assemble easy meals in bulk. The meals can be portioned in reusable containers and grabbed from the fridge on the way out the door.
By batching the cooking task, you can prepare a week's worth of meals on your day off from the comfort of your Northridge apartment! In addition to the saved time, it saves money on restaurant meals and automates healthy eating choices.
Here are Candlewood North's three favorite easy meal prep recipes to get you started!
1) Chicken/quinoa Bowl
Season and cook a whole package of lean boneless chicken breasts to an internal temperature of 165 degrees.
Simmer two cups of dry quinoa in four cups of water or broth for 25 minutes for a week's worth.
6 ounces chicken breast, marinated, pre-cooked, cubed
1 cup precooked quinoa
1 cup roasted broccoli
1/2 cup roasted tomatoes
3 tablespoons feta cheese
Dress with olive oil, lemon juice, salt, pepper
2) Pasta Salad
Pasta salads are easy to make and keep all week. Using protein-rich chickpea pasta makes it even healthier.
8 ounces chickpea pasta, boiled 7 minutes, strained
8 ounces cherry tomatoes, halved
8 ounces cucumber, chopped
4 ounces red onion, chopped
4 ounces fresh mozzarella, chopped
4 ounces salami, chopped
1/2 cup olives, pitted
1/4 cup parsley
Dress with olive oil, vinegar, minced garlic, salt, pepper, and sugar
3. Vegan Chili
Sauté the veggies first, then stew ingredients for 30 minutes or longer.
2 tablespoons olive oil
2 stalks celery, diced
1 large onion, diced
1 jalepeño, seeded, diced
4 cloves minced garlic
1 tablespoon unsweetened cocoa powder
2 tablespoons chili powder
1 tablespoon cumin, ground
1 teaspoon paprika
1 teaspoon kosher salt
1/2 teaspoon ground pepper
1 tablespoon molasses
1 cup dried lentils
3 1/2 cups vegetable broth
15 ounces cooked black beans
15 ounces cooked kidney beans
Garnish with avocado, jalapeño, scallions
Prep any of these recipes and you'll be eating happy all week! Call or visit the staff at Candlewood North today for more tips to live healthy in Northridge, California.