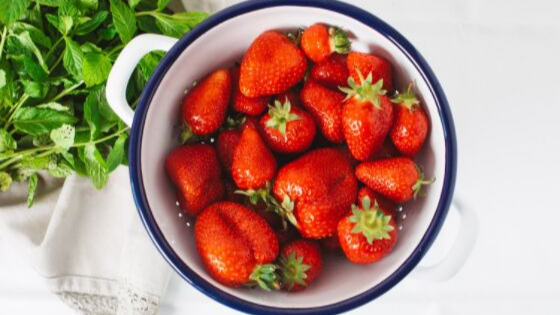 Walking the line between tart and sweet, strawberries are always a delight to munch on. They are even better, however, when transformed into baked goods and other delicious treats. Many people never go beyond strawberry shortcake in their creations — but you can with these awesome recipes.
Strawberry Shortbread Bars
Move over shortcake! Shortbread bars are here to elevate the flavor of strawberries in ways you have only imagined. To make these bars, you will need:
3 1/2 cups flour
1/2 cup cornstarch
2 cups butter
1 cup powdered sugar
1/2 cup strawberry puree
Preheat your oven to 325 degrees. Using an electric mixer, beat the softened butter and powdered sugar until creamy. In a separate bowl, mix together the cornstarch and flour. Then, slowly add the flour and cornstarch to the butter mixture while mixing on low.
Grease a 9-by-13-inch pan and pour in the shortbread batter. In a decorative design, pour the strawberry puree over the top and swirl it with a butter knife. Bake for 45 minutes or until lightly browned around the edges. Slice into generous pieces after the shortbread has cooled a bit but is still warm.
Pickled Strawberries
Although it might seem strange, pickling your strawberries seals in the freshness and builds on their bold flavors. To accomplish this feat, gather up:
4 cups strawberries
1 1/2 cups balsamic vinegar
1/2 cup sugar
2 tablespoons kosher salt
Wash the strawberries and remove the stems and leaves. Stack the prepared whole strawberries in one-quart jars, stopping just before the rim. Using a medium saucepan, cook the balsamic vinegar, white sugar and salt over medium-high heat. Stir frequently to help the sugar and salt fully dissolve. Once the mixture boils, remove the saucepan from the heat. Next, pour the mixture into the strawberry-filled jars. Let the jars cool, and put a lid on the strawberries. They keep in the fridge for about five days.
While you make these tantalizing recipes, treat yourself to a tall glass of ice-cold strawberry lemonade. And when you are done, give us a call at 866-796-2183 to learn how we can help you find the Northridge apartment of your dreams.