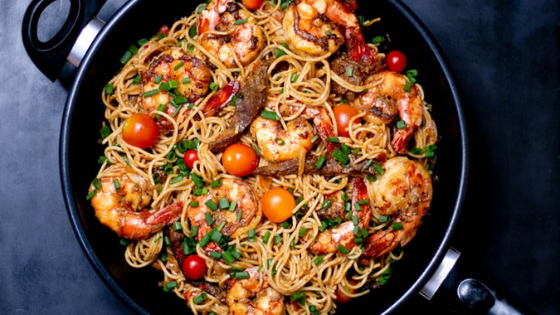 Summer is the perfect time to start cooking those delicious summertime meals. In this post, we'll discuss a few different meal ideas to make your summer great.
Taco Salad
The summer months are a perfect time to enjoy those cool, refreshing salads. The meal we'll feature here is the taco salad. Start by grabbing your favorite lettuce — whether that's iceberg, romaine, or spinach (we recommend spinach). Then you'll want to choose your toppings. A good combination of toppings includes black beans, avocado, shredded cheese, tomatoes, onions, and chipotle ranch dressing. To make your own delicious southwest dressing, you can also mix ranch with your favorite salsa. Taco salads are a scrumptious summertime treat the whole family can enjoy.
Shrimp Scampi
While summertime is great for fresh salads, pasta is another meal that's ideal during the warm months. For this meal, we'll discuss shrimp scampi with angel hair pasta. Start by going to the store and purchasing some fresh shrimp. Then you'll want to buy some angel hair pasta, olive oil, white wine, and some seasonings. While you're cooking the pasta, you'll want to sauté the shrimp, remove it, sauté the garlic, then add the wine and other seasonings. After that, you'll add the shrimp and noodles back into the pan to cook together. This meal is a protein-packed, hearty option everyone can enjoy on a cool summer evening.
Homemade Pizza
Who doesn't love pizza? And since your kids are home from school on summer vacation, summertime is a great time to get the family together for homemade pizza night. Making pizza as a family is a perfect way to bring everyone together while cooking amazing food at the same time. Start by purchasing pizza dough, enough to make a pizza or two, or more if you have a large family. Then you'll need pizza sauce, cheese, and any toppings you prefer. To really make things fun, have your kids choose whatever toppings they want. To cook, preheat the oven to 425, press the dough onto a pan, add the sauce, throw on some cheese, then place your toppings. After cooking for around 15-20 minutes, your kids will be blown away at the amazing pizza they helped design. Cooking pizza with the family helps to connect with everyone while enjoying delicious pizza on a beautiful summer night.
If you're looking for apartments in Northridge, CA to make all your favorite summertime meals, then call Candlewood North today to learn more!