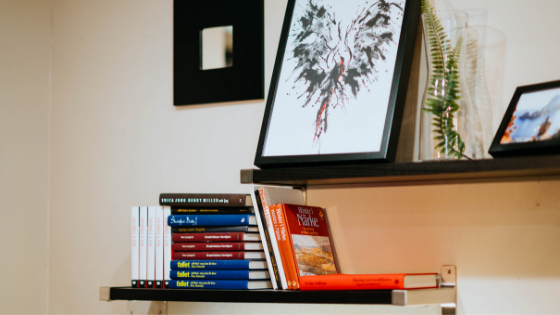 A unique and eye-catching bookshelf can make for a wonderful addition to most any apartment's decor. While there are plenty of pre-made bookshelves for sale, going the DIY route and making your own is a fun project and an excellent way to add your own creative spin to your bookshelf. Below, we'll take a look at three easy DIY bookshelf ideas that you are sure to love.
Floating Bookshelves
Floating bookshelves add a very unique and modern look to an apartment. Best of all, they are incredibly easy to build. All you need to do is secure the wooden planks that will serve as the shelves to your wall and place your book collection on top of them. Get creative about where you place your shelves and the material that they are made out of to make this design your own.
Cinderblock Bookshelves
A cinderblock bookshelf is a design that is both rustic and modern at the same time. To build this bookshelf, all you need to do is use cinderblocks for the support and decorative wooden planks for the shelving. You can then keep adding more levels of blocks and planks to make your bookshelf as large or small as you want. Best of all, a cinderblock bookshelf is quick and easy to disassemble if you ever decide to remove it.
Wooden Crate Bookshelves
Unfinished wooden crates are typically fairly easy to find, and your local supermarket may give them to you for free if you ask. Once you have these wooden crates, making a wooden crate bookshelf is incredibly easy. All you need to do is paint or stain the crates to your liking then stack them on top of each other with the open side of the crate facing out for a fun and creative DIY bookshelf.
Conclusion
Building your own bookshelf can be an enjoyable project and a great way to add a creative flair to your apartment's decor. If you are looking for a new place to make your own with fun DIY projects such as this, we invite you to contact us today to learn more about our Northridge, CA apartments.