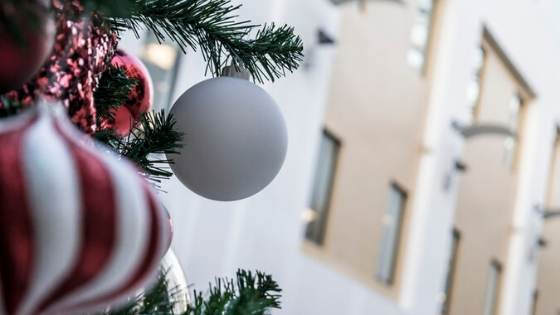 Add a unique and personal touch to your Christmas decor this year by creating one or more of these homemade crafts. All of these festive decorations are also easy on the wallet.
Jazz Up Clear Ornaments
Clear glass ball ornaments can be easily personalized with a variety of items. Here are a few ideas for items you can add to the inside of a glass ornament:
Pretty small feathers in a variety of colors

A sprig of rosemary, which resembles a pine tree branch
Beaded or faux pearl necklaces
Fake snow and some silver or white glitter to add some sparkle
Rose petals
Sand and small shells (for a beachy Christmas scene)
Clippings from succulents and small house plants can give a clear ornament a fun Instagram worthy look!
You can also create:
Marbled ornaments. Simply, add a little water to the inside of the ornament, then dump it out. Next, squeeze a little bit of acrylic paint into the ornament. You should add two or three different colors. Place your finger on the opening and swirl to spread the paint around the inside of the ornament until the interior is covered.
Glitter ornaments. To create these glittery balls, add a small amount of glue to the inside of the glass ornament. Lightly swirl the glue around until the interior is coated. Next, pour glitter into the ball and swirl again until the interior is completely covered.
Fun Holiday Vases
Fill hurricane lamps or large glass vases with small ornaments and/or fairy lights to create a festive, bright look.
Take a wide vase and fill it with pinecones, you can either paint these or leave them natural and add in fairy lights to make the vase shine!
You can also make adorable vases out of plastic decorative pumpkins by cutting off the tops and repainting them with fun personalized designs.
Is a new place to live on your list of things you want for the holidays? Then, please come check out our beautiful apartments in Northridge. Our community boasts everything you'll need for a happy new year, including a resort-style pool and an on-site laundry center. Our apartments are also pet-friendly.